Museums and Parks
From contemporary art to Pre-Columbian artifacts, to Mexico's master muralists, Guadalajara has dozens of fine museums. There are also over 100 parks in Guadalajara and an excellent zoo. Following are some examples.
M U S E U M S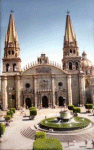 MUSEO DE ARTE HUICHOL: native art from Jalisco's Huichol indians; located in Zapopan (9.7
km northeast of downtown).
MUSEO ARQUEOLOGICO DEL OCCIDENTE DE MEXICO: a fine archaeological museum
with artifacts from Jalisco, Nayarit and Colima states. (In front of Agua Azul park; closed weekends.)
EL MUSEO CLEMENTE OROZCO: Visit the late artist's workshop, which contains a large
collection of paintings and frescoes.
INSTITUTO DE LA ARTESANIA JALISCIENSE: displays of contemporary handicrafts, utilizing everything from tin, to blown glass, to textiles. All items are for sale.
P A R K S
PARQUE NATURAL HUENTITAN: This enormous park has an excellent zoo with over 1,500
animals and over 230 species. There is also a planetarium and science institute with interesting displays. The park's Selva Mágica amusement park has children's rides, and seal and dolphin shows. Nearby is the Barranca de Huentitan, an enormous gorge that is connected to the Barranca de Oblatos (see below). Open daily except Monday and Tuesday; every day during school vacations and holidays.
PARQUE AGUA AZUL: This large park within the city limits offers carnival rides, acres of trees,
grass and flowers and a large public swimming pool. A large aviary, butterfly cage, and orchid hothouse are new attractions, added following a major face lift in 1992. Outdoor amphitheater features music, dance, and plays.
Outside Guadalajara
On the outskirts of the city…
Barranca de Oblatos Huentitán Park
Just 11 km northeast of town lies this enormous 2,000-foot-deep gorge. Lush tropical vegetation and hot springs make this a wonderful place for hiking, picnics and some wildlife viewing.
Tonalá
One of the oldest pueblos in Mexico, this small village to the southeast of Guadalajara is packed with workshops and factories producing most of the pottery and ceramics sold in the area. Tonalá is a less flashy cousin of Tlaquepaque (see below), but still a very worthwhile excursion for the hardcore bargain hunter and folk art aficionado. (Come ready to wheel and deal.) Century-old traditions and techniques are still practiced, though Batman and Mickey Mouse have crept onto the shelves as well. Don't miss the Sunday and Thursday pottery markets. This trip is easily combined with a trip to Tlaquepaque (see below).
Tlaquepaque
(tla-kay-PAH-kay) Once a separate town on the outskirts of Guadalajara, today it is one of the four municipalities (Tonalá, Zapopan, Guadalajara) that make up the metropolitan area. Tlaquepaque (about 8 km south of the city's center) is now known throughout Mexico as an arts and crafts center of significant renown. It offers visitors one of Mexico's greatest shopping experiences, thanks to its combination of an authentic colonial setting with affordable high quality crafts and fine works of art. Note: Prices for works by better known artists have shop up dramatically in the last few years, although quality and selection remain superb.
Now virtually surrounded by Guadalajara's sprawl, Tlaquepaque manages to retain a "colonial village" atmosphere. Attractive colonial streets and pedestrian arcades are lined with former mansions that today house galleries, fines restaurants, and souvenir shops. The area is most famous for its innovative, high quality hand-blown glass, stoneware, ceramics, and colonial style furniture. Many stores display items in lovely patios surrounded by fountains and tropical greenery. Some of Mexico's most famous artists (Sergio Bustamante and Ken Edwards to name two) have workshops here, along with larger "factories" that will custom make stoneware, ceramics and other items.
Head first to the Museo Regional de la Cerámica (across from the Bustamante gallery; closed on Mondays) to get an idea of what's available. The museum war recently renovated and re-opened (1996). When you're ready for a break, head to the newly restored Jardín Hidalgo, a classic Mexican square with shade trees, benches, a bandstand, and well-tended gardens. Connected to the Jardín is Tlaquepaque's main plaza, El Parián. This is a series of linked bars and restaurants, all under one roof with a kiosk in the middle. Dinning, tequila, strolling Mariachi bands, and more tequila, are the order of the day here. For an extra special dining experience there is Sin Nombre, a lovely garden restaurant with nouvelle Mexican cuisine, or El Abajeño for grilled meats. Along Calle Independencia is Diseño adobe, a fantastic new restaurant and store. Other restaurants include El Patio and Casa Fuerte.
Most shopping is along Calle Independencia, a handsome pedestrian arcade lined with citrus trees and brightly colored colonial facades. Here are a few of the more noteworthy store and galleries in Tlaquepaque.
Diseño Adobe: casual resortwear, whimsical Mexican Jewelry, pillows, weavings and Mexican furnishings all beautifully displayed.
Galería Sergio Bustamante: This world famous artist is a native of Guadalajara. A visit to his gallery of bizarre ceramic creations is unforgettable.
Galería Los Kristian: hand-painted fabrics, hand-woven rugs and beautiful clothing.
El Zaguán: a wide selection of equipales (rustic leather covered chairs and furniture) and weavings.
Artmex La Rosa de Cristal: a working glass factory (the city's oldest) that sells intricate figurines at reasonable prices.
El Palomar: stoneware dishes made on the premises; also selling textiles, sculptures and jewelry.
Bazaar Hecht: a converted hacienda selling hand-carved furniture, designer fashions and antiques.
La Casa Canela: wide selection of top quality glassware, weavings, pottery, paintings, stoneware, magnificent carved furnishings. This store is a "must see."
Chapala
(cha-PAH-lah) despite its size – population 25,000 – Chapala is quaint, provincial, and has the appearance of a misplaced English suburb. Several Victorian-style buildings line the city's main boulevard of inlaid brick with wrought iron railings. Though populated by retired Americans and Canadians much of the time, the town is still very Mexican in atmosphere and appearance.
Interesting sites include the twin-spired Iglesia de San Francisco (on a site that was founded in 1528!); the two-star Hotel Nido (the oldest hotel on the lake; a red brick building built in 1904 and a favorite of Porfirio Díaz), the Registro Civil building (a curious looking blue and white Victorian structure) and the Cazadores Restaurant (a beautiful but crumbling Victorian mansion, once the summer home of the Braniff family.)
From this point a cement pier stretches toward the lake in front of a broad waterfront promenade, or malecón. There is also an interesting craft market along the malecón. Boat trips are available to two off-shore islands. One of the islands, Isla Mezcala, was the site of a major battle against the Spaniards during the War of Independence. Remains of the 19th century fortress await visitors.
Ajijic
(ah-he-HEEK) This city is cradled between the peaceful shore of Lake Chapala and lush forest-clad mountains. Despite a predominance of satellite dishes, cars with U.S. license plates, and nearby upscale subdivisions, Ajijic is one of Jalisco's most picturesque colonial villages, Brightly painted storefronts, galleries and lovely homes line the city's grid of narrow cobblestone streets. A wave of overseas press reports in the 1980's about the city's "lakeside living on a shoestring" brought thousands of new American and Canadian residents. This gringo invasion has brought surprisingly few changes to Ajijic's tranquil village atmosphere and classic colonial appearance. Aside from being the lake's most picturesque village, Ajijic touts some excellent dining, shopping, and lodging options. A day of exploring takes in several colonial era attractions.
Sight-seeing best starts at the city's pretty main square. On the north side is the small 17th century parish church. Next door is a small archaeological museum and the Casa de Cultural, selling Huichol Indian crafts. Two blocks to the east is the lovely Iglesia de San Andrés. Built in 1749, this single-spired church is noted for its whitewash exterior with yellow trim. It faces a beautiful courtyard with flowering trees and gardens.
Return to the main square and head down Calle Colón. Here you'll find some excellent boutiques and shops. Most are housed in converted colonial homes with sunny interior patios. Stores and galleries include the Centro Ajijic de Bellas Artes, Mi México, Galeria Daniel Palma, Opus Boutique. Another attraction is the new "Collección Billy Moon" compound. This combination gallery/garden/crafts factory is just west of town in a large refurbished facility on Calle Río Zula. Moon's works include pottery, furniture, modern colonial-style art, and assorted decorative pieces. A small hotel is planned here. Continue down Calle Morelos to the peaceful shore of Lake Chapala. Mixtec Indians from Oaxaca wave colorful garments and shawls in front of the pier.
A new Ajijic attraction is Tobolandia, an American-style water slide park on the city's outskirts. Admission is only $15 pesos for kids/$25 for adults.
A local tour operator, Charter Club Tours (tel. (376) 53477), operates full-day bus tours to attractions throughout the area, including the village of Tequila, a shopping tour to Tlaquepaque/Tonalá, and city tour of Guadalajara.
Another outlet for cultural/social activities is the Lake Chapala Society, a foundation/service club with mostly expatriate members. The society is active in the community, providing scholarships for local students, conducting health and safety classes, and raising funds for local causes. At its lovely garden-filled location on Calle 16 de septiembre there's a good English library with books and videos.
Favorites Ajijic restaurants include Bruno's (the area's best steakhouse), Los Telares (elegant patio dining; gourmet Mexican), Min Wah (good Chinese food), La Nueva Posada (gracious lakeside patio a setting, Mexican and international cuisine), and Danny's (a popular breakfast spot). A La Luz de La Luna at the Billy Moon Gallery is also popular.
Jocotepec
(ho-koh-tey-PEK) Founded in 1528, this is the least "Anglicized" of the lake's three main villages, and is best visited on Thursdays when its excellent tianguis marketplace spills onto the city's streets. Not to be missed is the city's striking church, with its red volcanic stone and brick exterior with bright white grout. The nearby village of San Juan Cosalá (west of Ajijic) has public mineral baths and pools.
Tapalpa
For a relaxed slice of country life in Jalisco's pine-clad mountains, do as the tapatios do, and head to Tapalpa. This peaceful rural village is one of Mexico's prettiest and most serene. It is a popular weekend retreat from Guadalajara's bustle, about a two-hour drive south from the city. (Frequent bus service is available.)
After a steep climb up the Sierra de Tapalpa mountains, you find yourself surrounded by pastures, dairy farms and pine forest. The city rests on a gentle slope over looking green rolling hills and distant mountain peaks. You enter this very colonial city along cobblestone streets lined with simple whitewashed buildings, topped with layered red tile roofs. Park near the main square and begin exploring. An abandoned, fortress-like church sits across the street from a towering red brick cathedral with gleaming white mortar. A few steps away is the city's charming plaza with a small bandstand, wrought iron benches and shade trees. Surrounding the plaza are colonial-era buildings with carved wood balconies that seat guests at several inexpensive restaurants. The setting is pure heaven.
Tequila
About 56 km northwest of Guadalajara is the village where most tequila is produced. It's an enjoyable day trip past blue maguey fields. Sauza (oldes and most famous), Herradura, Cuervo, and Orendain all have distilleries. The Sauza distillery offers tours on Mon/Wed/Friday from 9am-5pm. For information contact them in Guadalajara at (3) 647-9776. Others offer tours that include sampling, and even the chance to plant your own tequila plant! Tours are available from Guadalajara and can be easily arranged from most hotels. [Panoramex offers tours: (3) 8105057.]
OTHER COLONIAL CITIES
Guadalajara is the gateway to a region rich in Old World atmosphere, history and romance. Known as the "Colonial Circle," this region encompasses several villages and towns that capture the European flavor of Mexico's historic interior. Take several days to explore these villages and towns, some of which have changed little since the eighteenth century. They include San Miguel de Allende, Guanajuato, Dolores Hidalgo, Morelia, Querétaro, Zacatecas, Uruapan, Aguascalientes, and San Luis Potosí. (See Colonial Cities chapter for details.)
SHOPPING
In addition to the delights of Tlaquepaque (see earlier description in this section), Guadalajara has several American-style shopping malls. They include Plaza Universidad, Plaza del Sol (over 300 stores, near the Holiday inn), Plaza Bonita, La Gran Plaza (ultra modern, near the Camino Real Hotel), Plaza Mexico (over 100 shops), Plaza Patria (top notch shops and boutiques), Plaza Galería del Calzado (60 stores selling high quality, bargain priced footwear). Parents shouldn't miss Guadalajara's many children's clothing boutiques filled with hand-knit sweaters and embroidered layettes.
Downtown and just off the Plaza Tapatía is the massive Mercado Libertad, the largest open-air market in all of Latin America. Over 1,000 stands line a maze-like layout under an enormous cement roof. Literally anything and everything is sold here. Also downtown is El Baratillo, thirty blocks of the world's largest flea market…great for antiques; open Sundays from 6am-2pm.
SPORTS & OUTDOOR ACTIVITIES
Golf
Guadalajara is considered the golf capital of Mexico. There are half a dozen championship quality courses. Green fees range from $35-50 U.S. Courses are seldom crowded on weekdays. Following are courses that allow public play.
Guadalajara Country Club: 6,821 yards; the traditional favorite; private course that allows limited public play for visitors. Tel. (3) 817-2858
Club de Golf Atlas: Joe finger designed, 7204 scenic yards of twisting, tree-lined fairways; just south of Tlaquepaque. Tel. (3) 689-2620
Las Cañadas: a large valley course surrounded by mountains and rugged terrain; 27 holes, 6730 yards; 14 km north of the city. Tel. (3) 685-0412
Santa Anita: 6,811 yards of well maintained fairways; 6 km south of the city. Tel. (3) 686-0386
El Palomar: lovely country club on hills overlooking the city. Exceptional 18 holes (6,765 yards), pool, and restaurant. Tel. (3) 684-4436
Tennis
Tennis facilities are also excellent. El Tapatio Resort is one of Mexico's great tennis centers, with ten lighted clay courts. There are also courts at the Camino Real, Presidente Inter-Continental, Fiesta American, and Holiday Inn Crowne Plaza Hotels.
Spectator Sports
SOCCER: Guadalajara has five professional teams. Matches are Saturday evenings and Sunday afternoons at the Estadio Jalisco.
CHARREADAS: The Mexican rodeo takes place at Lienzo Charro de Jalisco every Sunday at noon. The charros (Mexican cowboys) compete in ten events